RECORDING OF... Green Funerals Week: Advocating for Natural Organic Reduction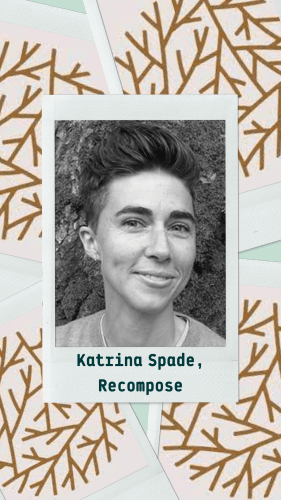 THIS SESSION HAS ALREADY HAPPENED. REGISTER HERE TO RECEIVE A RECORDING OF THE SESSION BY EMAIL.
In 2019, PMA partnered with human composting company Recompose to advocate for the addition of two new death care options to be added to Washington law: natural organic reduction, also known as human composting, and alkaline hydrolysis, also known as water cremation or aquamation. This law, SB5001, was the first to legalize human composting and a historic milestone for expanding death care options everywhere. Since then, human composting laws have been signed in two additional states with several others considering bills in their current legislative sessions.
In this presentation, Recompose founder Katrina Spade will share the story of legalizing human composting, including the highs and lows of legislative efforts and the important role that constituent advocacy has played in building momentum for new death care options.
---------------------------------------------------------
Katrina Spade is the CEO of Recompose.