Ducks in a Row workshop series
Ducks in a Row is our popular three-hour workshop series that provides participants with the information they need to plan every major component of their end of life arrangements, including: 
Legal and Financial Documents (trusts, wills, probate, etc.),
Advance Directive for Health, POLST (Portable Order for Life-Sustaining Treatment) forms, and information on Washington's Death with Dignity law; and,
Funeral planning decisions (Disposition Authorization, Designated Agent, etc.).
Workshops are led by experts including an estate attorney, representatives from community partners like End-of-Life Washington (the steward of the Death with Dignity law) or Honoring Choices PNW, and a deathcare educator.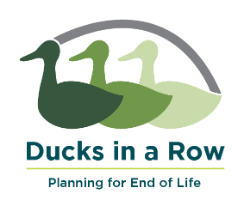 PMA works with community partners to offer our Ducks in a Row workshop series a few times a year. For upcoming workshops, visit our Events page.
Additionally, presentations are available by request. Please contact us at info@peoplesmemorial.org for more information.