Burial Plans & Prices
People's Memorial contracted funeral homes offer the full range of burial options, from simple burial to a complete funeral with viewing, chapel service, hearse, and graveside service. Ask the funeral director about customizing the arrangements to make them most meaningful for you, while respecting your budget. These contractual prices are in effect from July 1, 2023 until June 30, 2024.
It's important to know that in Washington, you can only be buried in a licensed cemetery (not on your own land). Those cemeteries can dictate how their plots are used, including the size or type of monument.  Remember: embalming is not required by law!
---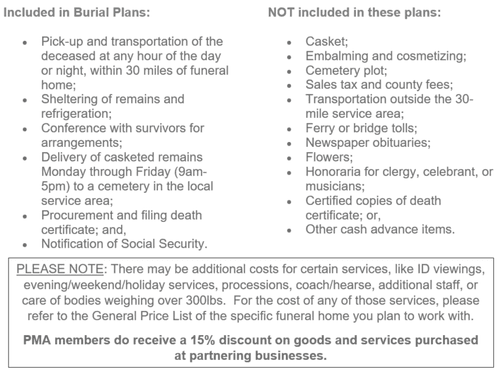 ---
Prices marked with * do not include the cost of a basic cloth casket.
| Funeral Home | City | Direct Burial (PMA Price) | Direct Burial (Standard Price) | Burial w/ Graveside Service (PMA Price) | Burial w/ Graveside Service (Standard Price) |
| --- | --- | --- | --- | --- | --- |
| Harrison Family Mortuary | Aberdeen | *$1,742.50 * | *$2,050.00* | *$2,061.25* | *$2,425.00* |
| Klontz Funeral Home | Auburn | $2,698.75 | $3,175.00 | *$3,230.00* | *$3,800.00* |
| Curnow Funeral Home | Bellevue | *$1,721.25* | *$2,025.00* | *$2,409.75* | *$2,835.00* |
| Whatcom Cremation & Funeral | Bellingham | $1,950.75 | $2,295.00 | *$2,452.25* | *$2,885.00* |
| Hubbard Funeral Home | Castle Rock | $2,902.75 | $3,415.00 | *$2,800.75* | *$3,295.00* |
| Dowling Funeral Home | Cathlamet | $2,902.75 | $3,415.00 | *$2,800.75* | *$3,295.00* |
| Funeral Alternatives of WA | Centralia | $2,992.00 | $3,520.00 | $3,459.50 | $4,070.00 |
| Dahl-McVicker Funeral Home | Kelso | $2,902.75 | $3,415.00 | *$2,800.75* | *$3,295.00* |
| Funeral Alternatives of WA | Lacey | $2,992.00 | $3,520.00 | $3,174.75 | $3,735.00 |
| Steele Funeral Chapel | Longview | $2,902.75 | $3,415.00 | *$2,800.75* | *$3,295.00* |
| Whidbey Memorial Funeral Home | Oak Harbor | $1,865.75 | $2,195.00 | *$2,800.75* | *$3,295.00* |
| Northwood Park FH & Crematory | Ridgefield | $2,371.50 | $2,790.00 | *$1,695.75* | *$1,995.00* |
| The Co-op Funeral Home | Seattle | $1,687.00 | $1,985.00 | $2,087.00 | $2,455.00 |
| Linde-Price Funeral Home | Sequim | *$1,436.50* | *$1,690.00* | *$1,861.50* | *$2,190.00* |
| Pacific NW Cremation | North Spokane | $2,987.75 | $3,515.00 | *$3,497.75* | *$4,115.00* |
| Pacific NW Cremation | Spokane | $2,987.75 | $3,515.00 | *$3,497.75* | *$4,115.00* |
| Pacific NW Cremation | Spokane Valley | $2,987.75 | $3,515.00 | *$3,497.75* | *$4,115.00* |
| Weeks' Dryer Mortuary | Tacoma | $3,221.50 | $3,790.00 | *$3,735.75* | *$4,395.00* |
| Fir Lawn Funeral Chapel | Toledo | $2,307.75 | $2,715.00 | *$2,728.50* | *$3,210.00* |
| Woodland Funeral Home | Woodland | $2,902.75 | $3,415.00 | *$2,800.75* | *$3,295.00* |