Chakra Grief - A Spiritual Approach to Loss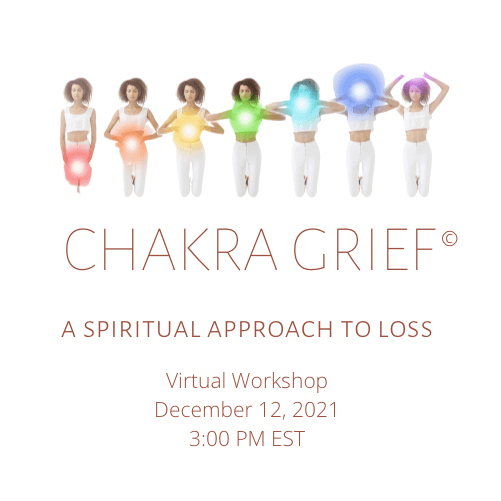 The holidays are swiftly approaching. This is a time of year when the grief and loss that we have experienced throughout the year is going to be felt the most. In honor of the holidays (and each and every one of you!), Joél Anthony (The Grave Woman) wants to extend the opportunity to explore grief from a spiritual and non-traditional perspective that delves deeply into the flow of the sacred energy that we each posses.
​Some people believe that chakras are the energy centers of our bodies and portals for our spiritual essence to flow. The theory behind chakras is that they align anatomically with our vital organ systems and impact the function of those organs. When our chakras are functioning properly, life energy can move through us freely. As a result we feel harmonious, peaceful, creative, and balanced in our bodies, minds, and spirits.
When energy becomes stagnant in one or more of our chakras, our entire being (both spiritual and physical) becomes imbalanced. Grief uniquely shifts the flow of sacred energy to each chakra, its correlating anatomy, and impacts thoughts, emotions, and overall health and wellness.
During the brand-new Chakra Grief© A Spiritual Approach to Loss workshop we will be:
-Exploring Grief Color Theory
-Learning and Simplifying The 7 Chakra System
-Creating Sacred Rituals to Help Navigate Grief and Loss
-Introducing Practices that Properly Feed Our Spirits, Minds and Bodies While Grieving
-Acquiring an Understanding of the Use of Sacred Smoke
-Identifying the Healing Properties of Crystals
-Implementing Creative Expressions for Grief
-Finding Our Sacred Rhythms
-and much, much more ...
​All are welcome to join this session! This virtual workshop is perfect for everyone ranging from professionals and students to those experiencing grief from a loss of any kind (death, losing a job, relationship/friendship/marriage ending, difficult life transition, etc). Information on how to access the workshop will be emailed directly to you 48 hours prior to the workshop.
Joél looks forward to healing with you! Learn more about her and her work by visiting her website at https://www.thegravewoman.com/.