Ducks in a Row: Estate Planning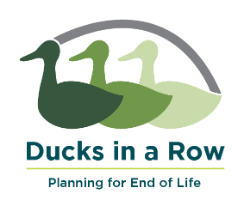 This is part two of a three part workshop, Ducks in a Row. Join us in-person at Aljoya Thornton Place for one or all three of the classes! This event is open to the public and registration is free, but required as seating is limited.
Many people think estate planning is only for the wealthy. Regardless of what we own, we all need an estate plan to determine who will pay bills, what will be done with personal belongings, and who will be the heirs of your property. Learn about estate planning documents such as Durable Power of Attorney, Will, and Revocable Living Trust. Elizabeth Jennings from Stokes Law will lend us her expertise as she leads us in this great course on estate planning!
People's Memorial Association is a Seattle-based nonprofit dedicated to funeral education and advocacy.