Ducks in a Row: Advance Directives for Healthcare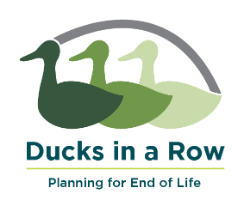 This is part one of a three part workshop, Ducks in a Row. Join us in-person at Aljoya Thornton Place for one or all three of the classes! This event is open to the public and registration is free, but required as seating is limited.
Have you tried to complete your Advance Directive? Have you started and stopped working on it a few times? Have you thought, "I really should get that done"? Let us help you.
An advance directive for healthcare, also known as living will, personal directive, advance directive, medical directive, or advance decision, is a legal document in which a person specifies what actions should be taken for their health if they are no longer able to make decisions for themselves because of illness or incapacity. The durable power of attorney for health care is the person designated to carry out those instructions when a person is unable to speak for themselves.
Healthcare advocate Bonnie Bizzell will share the importance of advance planning. She will present an overview of advance directives for health care, durable power of attorney for health care (DPOAHC), and the POLST forms.
People's Memorial Association is a Seattle-based nonprofit dedicated to funeral education and advocacy.