There is a simple way for you to donate to People's Memorial without costing you any additional money! 
AmazonSmile is a website operated by Amazon with the same products, prices, and shopping features as Amazon.com. The difference is that when you shop on AmazonSmile, the AmazonSmile Foundation will donate 0.5% of the purchase price of eligible products to the charitable organization of your choice. Every item available for purchase on www.amazon.com is also available on AmazonSmile (smile.amazon.com) at the same price. You will see eligible products marked "Eligible for AmazonSmile donation" on their product detail pages.
You can follow the simple directions below to make sure everything you purchase from Amazon results in an incremental donation to People's Memorial.  The more members that place their order via smile.amazon.com, the better!  We hope that your regular, everyday purchases can add up to a major donation to PMA from Amazon.
---
To set up on your computer...
1. Open any browser on your desktop or laptop.  Type smile.amazon.com in your address bar.
2. Sign-in with your Amazon account information.
3. Right below the Amazon search bar you will see a section that says "Supporting."
4. Click "Supporting" and this will open a page that allows you to search for and select People's Memorial.
5. Select "Or pick your own charitable organization" at the bottom of the screen.  In the  "Charity name or location" type in People's Memorial Education Fund and click on the gray "Search" button.  When the search results appear, click the yellow "Select" button for People's Memorial Education Fund. 

6. The following screen will appear.  If you follow the directions at the bottom of the screen, you can bookmark the AmazonSmile website on your browser.  This way everything you buy when shopping from that browser on your will provide a 0.5% donation to People's Memorial.  (You can use the Bookmark tab at the bottom of the page or use the browser to save the bookmark!) 
7. Be sure to bookmark the AmazonSmile website specifically and add to your Favorites. Use the smile.amazon.com link from now on to order anything from Amazon to help your normal purchases build up to donation over time.
To set up on your phone or tablet...
If your phone or tablet is an Apple product, the official Amazon app from the Apple App Store won't support donations to charities.  There is an easy fix for this, though!
1. Delete the Amazon app that you had downloaded from the Apple App Store.  To delete, tap the Amazon app icon on your phone and hold it down until it wiggles back and forth. Then press the small 'x' in the upper lefthand corner.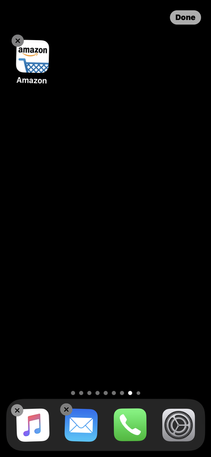 2. Open the Safari browser.  Type in smile.amazon.com.  Select "Sign-In. Already a customer?" and then enter your Amazon log-in information.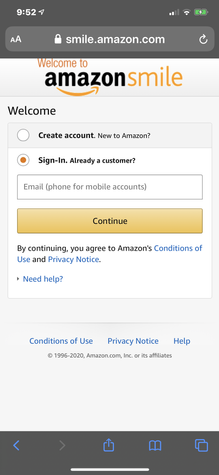 3. You will now want to save this as a favorite icon/app so that you can quickly select it from your home screen to place future Amazon orders. With the AmazonSmile web page open, you will see an icon at the very bottom of the screen that shows a square box with an arrow pointing straight up.  Tap this button and then scroll down until you see "Add to Home Screen", which has a square box with a "+" symbol in the middle.  Press this icon/box.  
4. At the top of the next screen, press "Add."  This will add the Amazon Shopping Cart icon/app to one of the pages of apps that you have. Press and hold the icon until it starts to wiggle to move that icon to any page of apps on your phone or tablet.