Recomposition and Aquamation: two new options
Why do we need sustainable disposition options?
Conventional burial practices are increasingly more difficult to sustain as populations expand and cities run out of room. For example, Seattle has a ban on creating new cemeteries and expanding existing ones. Additionally, each year, the U.S. puts 1.6 millions tons of concrete, 20 million feet of hardwood boards, and 4.3 million gallons of carcinogenic embalming fluid into the ground in conventional burials. It's enough toxic fluid to fill six-and-a-half Olympic swimming pools.
Cremating a single body emits 540 pounds of carbon dioxide. 78.3% of Washingtonians choose cremation (second to Nevada at 80.1%) compared to the national average of 53.1%. 42,833 cremations were performed in 2018. (2018 Cremation Association of North America). Cremations in the U.S. produce 250,000 tons of emissions each year.
PMA Advocacy Efforts
On May 21, 2019 Governor Inslee signed SB 5001 Concerning Human Remains into law, legalizing alkaline hydrolysis (aquamation) and "natural organic reduction" (recomposition). Next, rules and regulations will be written. Aquamation and recomposition will be available in May 2020. We will let you know as soon as there are service providers and pricing available for these options.
We updated our Disposition Authorization to include Recomposition and Aquamation. Please sign up for our newsletter to receive updates.
Updated May 23, 2019.
Recomposition 
Legally known as "natural organic reduction", recomposition is a process created by Katrina Spade at Recompose that gently converts human remains into soil as an alternative choice to cremation and conventional burial. The following information about the process and its impact has been pulled from the Recompose website:
The modular system uses nature's principles to return bodies to the earth, sequestering carbon and improving soil health. The transformation of human to soil happens inside the reusable, hexagonal recomposition vessels. When the process has finished, families will be able to take home some of the soil created, and there are plans to donate the rest to forest reconservation projects.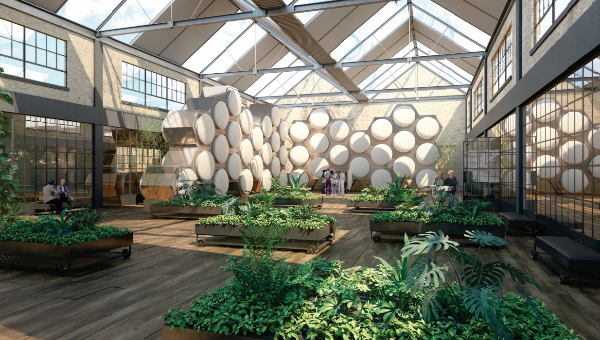 By converting human remains into soil, we minimize waste, avoid polluting groundwater with embalming fluid, and prevent the emissions of CO2 from cremation and from the manufacturing of caskets, headstones, and grave liners. The Recompose team has completed a Life Cycle Assessment comparing conventional burial, cremation, natural burial, and recomposition. In their preliminary findings, recomposition performed the best out of all four options in the majority of categories.
Notably, recomposition performed the best in the global warming potential category (GWP). Thanks to the carbon sequestration which occurs at different points throughout the recomposition process, we estimate that a metric ton of CO2 will be saved each time someone chooses recomposition over cremation or conventional burial.
For more information visit the Recompose website and sign up for their newsletter to receive updates.
Aquamation
Aquamation is a gentle process that uses water, temperature, pressure, and alkalinity to reduce the body to bones which are then processed into "ashes" and returned to the family in an urn. Cremation does the same reduction using flame. Unlike cremation, there are no emissions with aquamation. It uses about 1/8th the energy. Cremation burns the equivalent of two tanks of gasoline (this statement has been confirmed by a retort manufacturer and validated by the EPA and Bonneville Environmental Foundation).
Aquamation is known by several names including alkaline hydrolysis, bio cremation, water cremation, and resomation.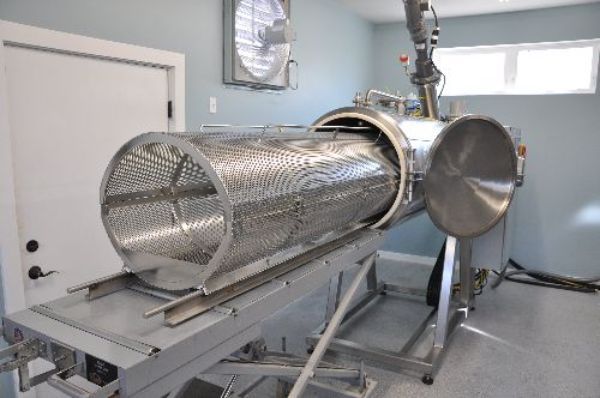 Until the process is available in Washington State in May 2020, The Co-op Funeral Home of People's Memorial is offering aquamation by working with a company in Portland, Oregon. 
Aquamation is currently available for our pets in Washington State. Our friends at Resting Waters Aquamation: Seattle's Pet Funeral Home use this method and helped us legalize it here. PMA members receive 15% off services for their pets at Resting Waters.
If you'd like to choose one of these options and include it in your end-of-life planning paperwork, visit the Member Forms page to access the Disposition Authorization with Recomposition and Aquamation.