Green info
Green Burial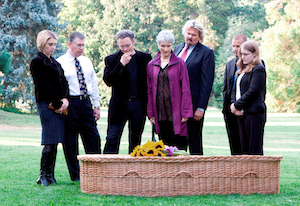 Green Burial is considered to be the most environmentally-friendly choice of final disposition. However, even green burial has some environmental impacts – the natural decay of the body produces methane gas, a more potent greenhouse gas than carbon. Nonetheless, Green Burial remains the most earth-friendly way to leave this world.
Green burial involves no chemical preservation of the body. The deceased is simply placed into a biodegradable casket or natural fiber shroud and directly into the soil with no concrete grave liner. There is no manicured lawn or sea of monuments in a green cemetery. Instead, the grave may be marked by a native tree or shrub. On the surface grows vegetation that is native to the ecosystem. Ultimately, a natural burial ground becomes a green space which is preserved for future generations to enjoy. A true natural burial ground also has a conservation easement to prevent future development of the land.
The Green Burial Council (GBC) certifies three categories of cemeteries offering natural or "green burial":
Hybrid, Natural and Conservation Burial Grounds.
Washington has all three kinds of burial grounds, with committed people working to create more in the future. Additionally, it is often possible to have a "green burial" without a cement vault in some rural cemeteries in the state of Washington. These cemeteries are not GBC certified, but they are open to people who want a simpler, more natural burial.
People's Memorial partners with three green cemeteries and two funeral homes. For more information, visit our Green Options page.
For more information on green burial and certified service providers visit the Green Burial Council website. If green burial is your wish, you may wish to complete the Planning Guide produced by the Green Burial Council.