Trivia Night!
A Virtual Fundraiser Benefiting PMA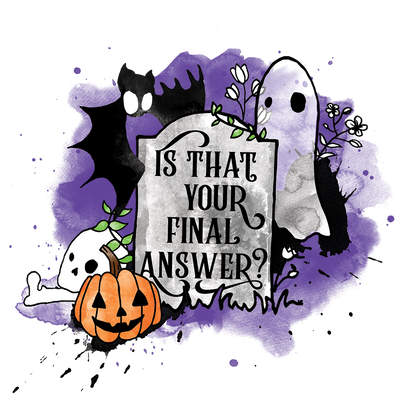 Thank you for joining us for our first virtual fundraiser, trivia night! We raised $10,900 to kick off the year end giving campaign!
Print out these Halloween-themed flags to decorate your space for Halloween! Thanks to volunteer Kendall for creating the logo and these flags. Check out her Instagram page @creepycrafter.
Bones n Pumpkins, Bats, Stones n Ghosts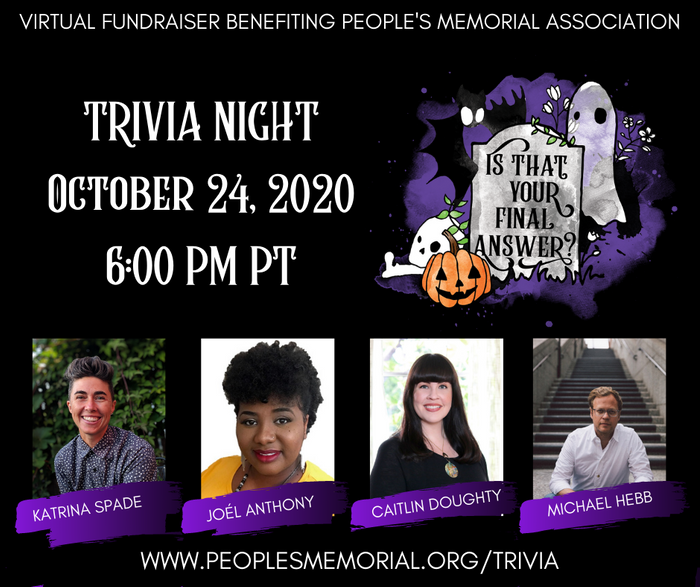 ---
Creepy Cocktail Recipes
Grab the ingredients needed for one of these Halloween inspired drinks and mix one up the night of the event. This is a small way we can be in community together!
Sanguine Sangria
Sangria is great because it's simple and you can make the base of the drink the day before the event. We recommend you add the club soda, fruit, and ice just before enjoying!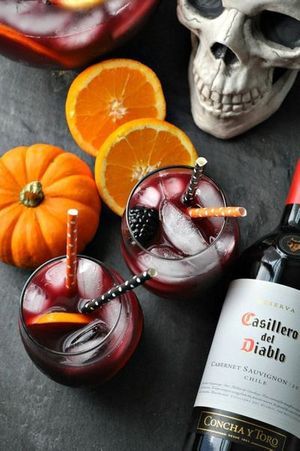 Servings: 6 cups
Recipe from The Seasoned Mom
1/8 cup sugar
1 bottle cabernet sauvignon (or other red wine of your choice)
1/2 cup orange juice
1/8 cup orange liqueur (such as Triple Sec or Grand Marnier)
12 ounces club soda, chilled
1 orange thinly sliced
1/2 cup fresh blackberries
Instructions: 
1. Bring sugar and 1/2 cup of water to a boil in a saucepan over medium-high heat, stirring occasionally, until sugar is dissolved. Remove from heat, and let stand 10 minutes.
2. Combine sugar mixture, red wine, orange juice, and liqueur in a large container; cover and chill 4 hours. Stir in club soda, oranges, and blackberries just before serving. Serve over ice.
Haunted Orchard Cocktail
This cocktail is a little bit sweet with a kick from the sparkles in the hard cider. Simply adjust the portion of each ingredient if you're enjoying these with a friend (or two).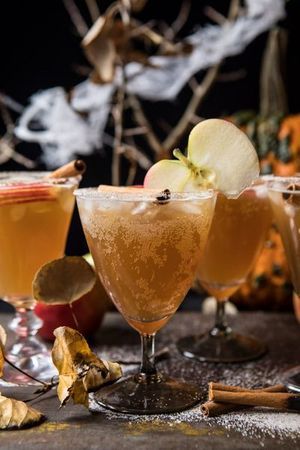 Servings: 1 drink
Recipe from Half Baked Harvest
Cinnamon sugar, for rim (optional)
1 1/2 ounces sliver tequila
1 ounce fresh lemon juice
1/4 cup apple cider
1 tablespoon real maple syrup, or to taste
1 teaspoon fresh grated ginger
1 pinch cinnamon
5 ounces sparkling hard cider
cinnamon stick and apple slices, for garnish
Instructions:
1. Rim a cocktail glass with cinnamon sugar.
2. In a cocktail shaker, combine the tequila, lemon juice, maple syrup, ginger, and cinnamon, shake to combine. Strain into prepared glass. Top with hard cider. Garnish with a cinnamon stick and apple slices.
P.S. Leave out the tequila and choose non-alcoholic sparkling cider to make this one a mocktail or kid-friendly!
---
Thank you to our sponsors!