Ducks in a Row: Funeral Options 2.0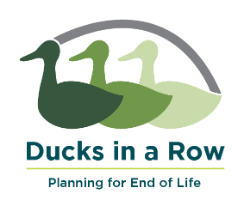 This is the final part of our three part workshop, Ducks in a Row, brought to you in partnership with Seattle Public Library. Join us for one or all three of the classes! Registration is free but required to join the webinar. This event is open to the public and will be recorded for our webinar library.
Do you know what your disposition options are in Washington State and what they cost? Have you ever wondered about green burial options? This presentation will equip you with the information to select funeral arrangements that fit your unique values and resources. We will explain cremation, burial (conventional and green/natural), Alkaline Hydrolysis (Aquamation/Water Cremation), Natural Organic Reduction (Recomposition/Human Composting), and full body donation.
Join us for a look behind the funeral industry curtain to learn how to navigate this difficult process and save yourself time and money. Beverly Tryk from People's Memorial Association will present on your options for body disposition in Washington State, the decisions that need to be made when planning a funeral, and the paperwork needed.
https://us06web.zoom.us/webinar/register/WN_OrTI9QIlRh2fAhW1x3IMAA
People's Memorial Association is a Seattle-based nonprofit dedicated to funeral education and advocacy.