RECORDING OF... Green Funerals Week: Aquamation and Evelyn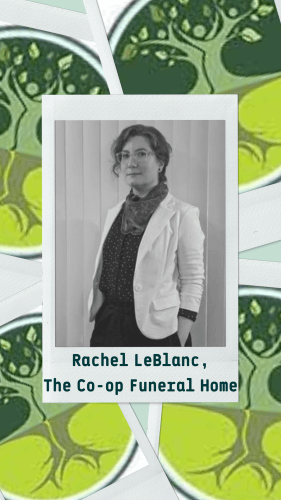 THIS SESSION HAS ALREADY HAPPENED. REGISTER HERE TO RECEIVE A RECORDING OF THE SESSION BY EMAIL.
Alkaline hydrolysis or "aquamation" is a gentle process that uses water, temperature, pressure, and alkalinity (potassium hydroxide) to reduce the body to bones, which are then processed into ashes and returned to the family in an urn. Cremation does the same reduction using flame, however aquamation uses 1/8th of the energy. This disposition option is now legal in 18 other states, including Oregon, California, and Colorado!
Join us for this session as Rachel LeBlanc walks us through the process and shares the story behind Washington's first aquamation, a family she was honored to serve.
---------------------------------------------------------
Rachel LeBlanc is a Funeral Director Intern at The Co-op Funeral Home.