Speaking of Dying Fundraiser, Farewell & Passing the Torch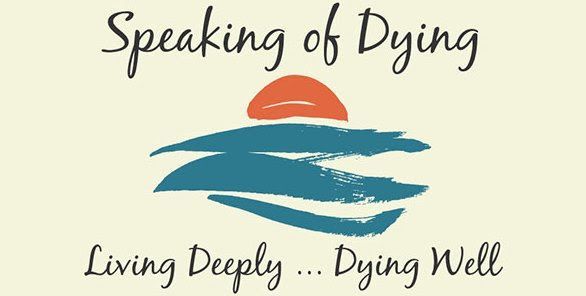 A message from the founder of Speaking of Dying, Trudy James:
"Over the past 10 years, one of my great privileges and joys has been to host film events bringing together countless friends, colleagues and organizations who care deeply about end-of-life issues. Together we've viewed the film Speaking of Dying, heard testimonials and speakers, enjoyed delicious food and drinks (created by my son, A J Rathbun), and viewed displays from other organizations.
Becoming comfortable speaking about our own life's end; learning what our resources are; completing an Advance Directive and discussing it with our physicians and loved ones: this work is needed now more than ever. Speaking of Dying efforts (the film, the facilitators, the workshops) will continue under the able guidance of our wonderful new director. And the work of Speaking of Dying will continue to need your support. (Even if you can't attend the virtual presentation, your financial gifts remain vital; a Donate button and check-mailing instructions can be found on the Speaking of Dying website.)"
This virtual event, hosted by Speaking of Dying's incoming director, Sara Schonauer, will be viewable on their Facebook page on Sept 25 at 4pm. The Speaking of Dying Fundraiser, Farewell & Passing the Torch will feature a special, short virtual presentation for you, including a farewell speech from Trudy and a torch-passing ritual with Sara. Will we see you there? Keep your eyes peeled for a PMA shout-out from this wonderful community partner!
If you haven't yet had the chance to view the powerful film that shares its name with this organization, you can stream it on Vimeo at https://vimeo.com/ondemand/speakingofdying/. We strongly recommend it!