Duck-et List: Estate Planning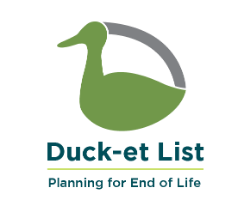 Many people think estate planning is only for the wealthy. Regardless of what we own, we all need an estate plan to determine who will pay bills, what will be done with personal belongings, and who will be the heirs of property at the end of life. Learn about probate and estate planning documents such as Durable Power of Attorney, Will, and Revocable Living Trust. This workshop will be presented by attorney Elizabeth Jennings who specializes in estate planning. Registration is free but required to attend. This information is open to the public and specific to Washington State laws. 
Elizabeth Jennings is an associate attorney at Northwest Elder Law Group. Elizabeth's practice areas include estate planning, probate, and guardianship. She has practiced Elder Law, Family Law, and Civil Litigation and regularly teaches courses on Elder Law and Wills, Trusts, and Estates as part of the Paralegal Program at Edmonds College.