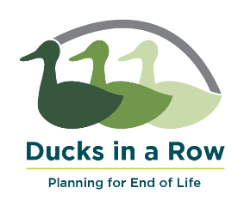 Ducks in a Row is our popular three-hour workshop that provides participants with the information they need to plan every major component of their end-of-life arrangements, including:
-Legal and Financial Documents (trusts, wills, probate, etc.)
-Advance Directive for Health, Durable Power of Attorney for Healthcare, and POLST (Physician Orders for Life-Sustaining Treatment) forms, and the process of using the Death with Dignity law
-Funeral planning decisions (Disposition Authorization, Designated Agent, etc.)
Workshops are led by experts including an estate attorney, a representative from End-of-Life Washington (the steward of the Death with Dignity law), and a funeral director.