Jeff Cohn, Business Manager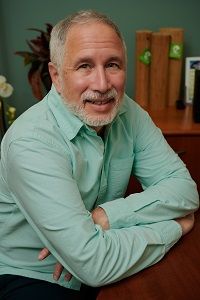 ---
Jeff first came to the northwest as a graduate student at the University of Victoria in British Columbia, where he fulfilled his dream of living in a foreign country. Upon earning his master's degree, the Canadian government kindly pointed to the border and Jeff eventually made his way to Seattle.
For years, he has wondered when his two degrees in art history would finally mesh with his business career. While Jeff is waiting for that day to arrive, he is pleased to be ensconced with People's Memorial, where his knack for managing small businesses is put to good use.
Jeff's youthful appearance belies his age, for he has years and years of management and customer service experience in public, private, and nonprofit sectors. His rich work history includes stints in a record store, junk mail production, teaching art history to bored college freshmen, buying gold & jewelry, and running a bakery for Mrs. Fields.
When he is not crunching numbers and dancing with databases, Jeff loves to travel. He lives in Normandy Park with his wife and daughter.